Stamps Shop
Riskless online order
Various payment methods
No minimum order value
Shipping cost from 3,- €
Free shipping at 100,- € (~ 141.81$)






Mitglied der Initiative "Fairness im Handel".
Informationen zur Initiative: fairness-im-handel.de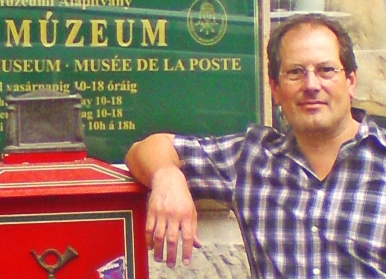 Bernd Wallrafen, storekeeper
Born in 1963 on the Lower Rhine, I have already been infected with the "virus-philatelia" during my early age by an uncle with philatelistic expertise. Thus motivated, my own collecting began in the age of nine with the usual collective areas at that time "BRD/Berlin" and a little bit of "all the world".
At the age of twenty, I began to develop rather extensive collections of the areas "German Reich from 1875 to 1923" and "Allied occupations after 1945" in stamped condition. Inspired by the work of the federal examiner Mr. Lippschütz my attention was drawn on the long-term series "Berlin constructions I" later. And from this I have been creating until today a spreading collection of printerrors, units and modes of use with occasional help of the unfortunately too early departed Mr. Panos Eliades. He was the husband of the federal examiner for Berlin – Christa Eliades – and was a meticulously researcher and co-editor of the "Printerror catalogue - Berlin constructions I".
Later on, I added further collection areas, like a small postal-historical home collection enriched with postcards and cartographies of the village Herrenstrunden near Bergisch Gladbach. I moved into that village whose historical background inspired me also for my company name: "Der Born" stands for the old notion "the source" or "the fountain". In this case it has the double meaning of on the one hand a "philatelic source of supply" and on the other hand locally, since the well "Strunde" originated near my former home and was called "the most busy creek of Germany".
Then after cooperation in philatelic trade in the Cologne area, I turned my passion into my profession became a self-employed stamp dealer within the VDB in 2003. Rather fast I specialized in those collecting and researching fields which also interested me strongly as a privat person: the "General-Issues under allied occupation after 1945". Already in 2002 I joined to the registered association "workgroup allied controlling advice" and was there intensely and decisively working in the fields of printerrors and sheet research as well as on further fields of work (see also under "research"). Later I also temporarily became the fair co-ordinator within the "workgroup allied controlling advice". Generally, I like visiting philatelistic fairs, exhibitions and also postal museums at home and abroad. Through this you get a deeper and deeper insight into the postal history as well as into the different possibilities and views on the philately.
Regarding the area of collecting the "General-Issues under allied occupation after 1945", I find especially interesting that in many areas there are none or hardly any documents which record the production and its different execution and appearance. Especially here, passionate collectors and researchers could reveal these secrets. For example, there still exists no definite and final examination of the fact which printing machines have been used by which editions of copies. This has to be proved with document pieces. Nevertheless, according to experience it can happen over and over again in this area of collection that new document pieces raise new questions and that the exclusiveness of facts taken for granted must be questioned. Primarily, – thus marking the outstanding position of these editions – this is caused by the lack and the need of the time directly after the collapse of the Third Reich.
This manifested itself in just few available, functioning and not demolished printing machines, as well as in the lack of raw materials like paper and colours. All in all, a wide sphere of activity with a huge number of opportunities to establish an interesting collection and to thereby also discover unknown and new realms.